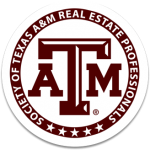 Tax Advisors Group President and CEO, Lynn Krebs, is the latest recipient of the "Lifetime Member Award" from The Society of Texas A&M Real Estate Professionals, also known as The Aggie Real Estate Network. Lynn is the 25th person to be awarded this highest honor of the association in its 40+ year history. This award is presented by the Board of Directors to individuals that have made a meaningful and lasting impact on the organization.
The Society of Texas A&M Real Estate Professionals strives to 1) educate, promote and support commercial real estate professionals to become industry leaders; 2) network with their peers; 3) provide scholarships to current students; and 4) support the real estate programs at Texas A&M University. It began in the 1970's when students in the Masters of Land Economics and Real Estate (LERE) Program began gathering as a social and networking group. Over the years the organization has developed into a growing network of real estate property professionals, most former students of Texas A&M University. It is responsible for a multitude of endowed scholarships and members also regularly return to the Texas A&M campus to mentor current students.  The organization's annual conference includes a full day of continuing education with a dozen or more speakers and panelists from individual entrepreneurs to top level employees of fortune 500 companies.
Click here to learn more.