The Society of Texas A&M Real Estate Professionals Webinar Series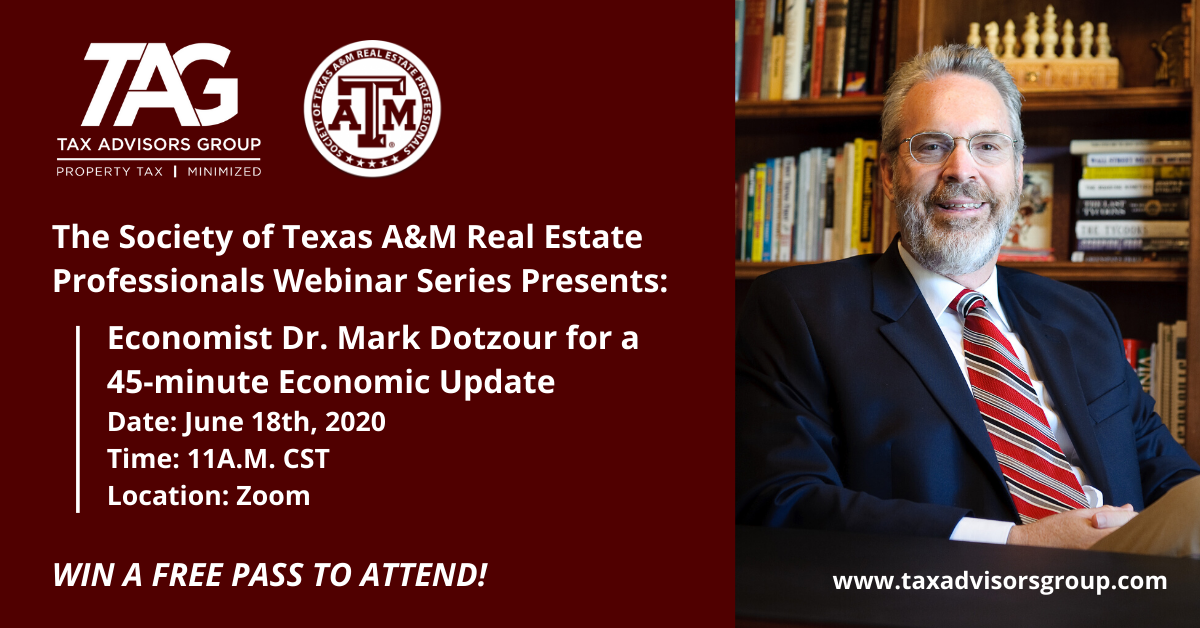 Join us for a 45-minute economic update and 15 minute Q&A via Zoom!
TAG is proud to be a Platinum Sponsor for The Society of Texas A&M Real Estate Professionals first summer webinar series hosted by Dr. Mark G. Dotzour, Thursday, June 18th, 2020 at 11A.M. CST.
Dr. Mark G. Dotzour is a real estate economist who served for 18 years as Chief Economist of the Real Estate Center at Texas A&M University in College Station. He has given more than 1,600 presentations to more than 295,000 people and has written over 90 articles for magazines and journals. His research findings have appeared in the Wall Street Journal, USA Today, Money Magazine and Business Week.
His clients include banks, private equity firms, real estate investments trusts, construction firms, engineering companies, wealth managers, private foundations, and commercial and residential brokerage firms. He has also made presentations to local and national trade associations all over America.
He makes complex economic issues easily understandable. Mark's goal is to provide his audience with a "tool kit" of useful information that will help them make good business decisions for their families, their clients and their company.
To register for the event, visit the Texas A&M Webinar Registration Page.
Win A Free Pass for This Real Estate Economic Update Webinar
TAG is giving away 10 passes (each worth $20) to this event. To win a free pass, visit our LinkedIn Page, and follow the instructions on the associated post for this webinar. One of our team members will be in touch to coordinate with you.